Radially sintered magnets are the face of the future, powered by Magma
Radial sintered ring magnet, a neodymium magnet manufactured, and its magnetic fields could be aligned in different directions then "normal" neodymium ring magnets. Under the manufacturing process several different magnetic fields can be created in a single ring, and in several directions. Radial neodymium rings makes it possible to create sophisticated magnetic applications in an unusual way. The classic design of magnetic rotors, for example, is being made by placing arc segments magnets on a ring, while each segment is magnetically aligned (north or south) in the opposite direction to the next magnet. With radial sintered rings, it is possible to create the opposite magnetic fields (4, 8 and more circular multi poles magnets) in a single magnet, in the same process. It is not possible in any other technology.
It is most important to point out, that this special technology requires special tooling to each specific magnet (mold & magnetic coil for magnetizing). Therefore, you should consider quite high costing right in the beginning of development. This technology does not suit anyone, only to customers seeking special technical solutions or heading to mass production. We are talking about a unique technology with major advantages.
Now, a new technology powered by Magma has enabled for the creation of a super strong, durable single-cast radially magnetized ring magnet.
The radial magnetization increases the ring's magnetic force, thus creating the strongest NdFeB ring magnet available for industrial and commercial use.
This momentous development is revolutionizing the magnet market, offering an innovative solution to a well-known need.
The advantages of radial sintered magnets are significant:
Rings measure up to 150mm in diameter.
Radial sintering assures no "weak spots".
Magnets are multi-poled – ring does not compromise the magnetic properties.
Magnetizing radially makes for a super strong magnet.
Magma stands at the frontline of this development, integrating it in new applications and enhancing performance.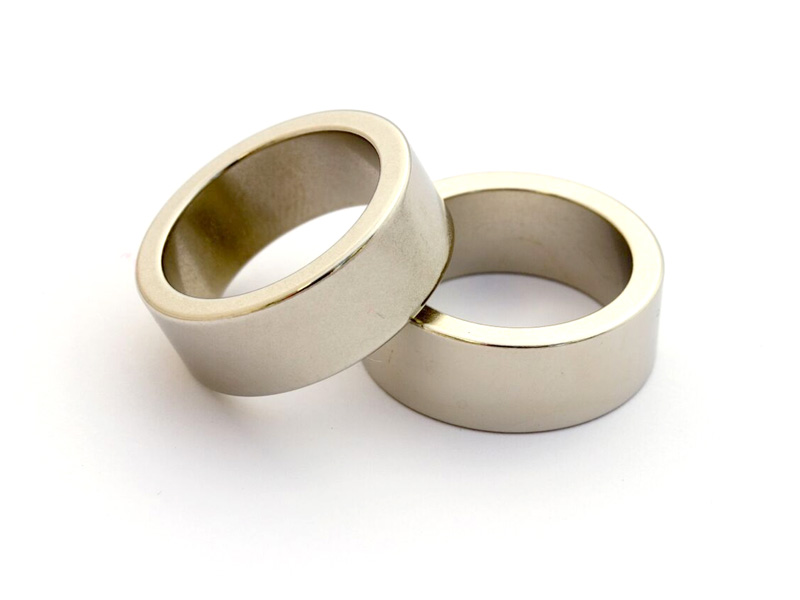 | | |
| --- | --- |
| Magnet force line distribution of normal orientation: | Magnet force line distribution of radial orientation: |
| | |
| Any Magnetization Direction: | Any Magnetization Direction: |
| | |
NdFeB based sintered radially oriented ring and segment magnets are more available now:
Magnets

Real Magnetic texture

Magnetic Configuration

Application:

Actuators




Magnetic bearings




Magnetic clutch




Peripheral motors




Spindle motors




Steering control motors




Stepper motors




Other new products

Advantages:

Precision of geometry

Variety of magnetic configuration




Homogeneous distribution of magnetic field




Design and assembly simplification




Precision of motor performances




Cost efficiency




Huge marketing potential

Sizes and shapes of magnets can be customized:

Maximum outside diameter is 60 mm




Minimum inside diameter is 25 mm




Maximum wall thickness is 7 mm




Minimum wall thickness is 2 mm




Maximum length is 25mm (for small thickness – 15)




Tolerances: mostly +/- 0.1 mm

Surface treatment:

These magnets can be covered by any available coatings,
like usual two-pole magnets (NiCuNi, Ni, Zn, epoxy etc.)

























Multi-pole





Uni-pole