Free & low dysprosium neo magnets
Free & low dysprosium neo magnets were developed because of shortage in material. Dysprosium (Dy) is a very rare and expensive rare earth element. Dysprosium is added to the neodymium magnets during its production in order to achieve better performance in high temperatures. Dysprosium also improve significantly the neo magnets resistance to

demagnetization. Therefore, neodymium magnets for higher temperature contain more dysprosium.
Dysprosium demand had exceeded its supply (not just for magnets). Therefore free & low dysprosium grades of neodymium magnets were developed in order to deal with this situation.
Free & low dysprosium neo magnets are made in the same process as "normal" neodymium magnets. Less or no dysprosium is melted together with other metals. Off course, different process parameters are used in the manufacturing process. Free & Low dysprosium neodymium magnets behave differently in a range of temperatures compare with the same grade with the regular content of dysprosium. furthermore, those magnets will also have a different BH curve.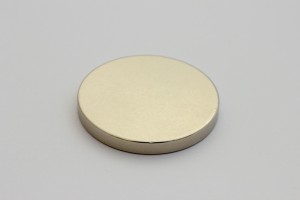 Free & Low dysprosium Neo magnets are a popular choice for some industries, especially in the automotive industry, where a long run supply is essential, and avoiding dysprosium shortage seems like a good idea.
Here are the list of grades of Free & Low dysprosium Neo magnets and their magnetic properties:

Free & Low dysprosium Neo magnets properties